Receding Gums Treatment in Niceville and Destin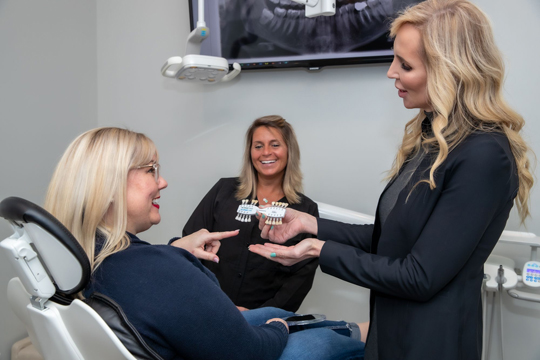 Gum recession can be a cause for concern. When you visit us for your bi-annual checkup, we will examine your teeth and gums for any negative changes. If your gums have receded too much, we can now use a revolutionary receding gums treatment to reposition them for better health: the pinhole surgical technique (PST) for gum rejuvenation, and we offer this at our offices in Crestview, Destin, Santa Rosa Beach and Niceville.
Causes of Gum Recession
Are receding gums a real problem? Yes—we often do need to resolve the condition, because it can compromise your health. Often, gum recession is caused by a buildup of bacteria in the gums. In those cases, we can clean your teeth and cleanse your gums to heal the root cause.
Other times, brushing the teeth in a certain way has aggravated the gums and caused them to recede. The cause can also be age-related, or misaligned teeth or teeth grinding can contribute to receding gums.
How Is Gum Recession Treated?
In the past, a receding gums treatment involved a transfer of tissue from one part of a patient's mouth to the gums. This involved multiple cuts and stitches, which were unpleasant for patients.
Today, because of our commitment to give you improved services, we offer the pinhole surgical technique. Instead of transferring tissue between sites, we can now reposition your gums directly, with no cuts or stitches.
Sometimes completed in as little as an hour, the pinhole surgical treatment uses these techniques:
Your dentist will create a tiny pinhole in the gums.
He or she will use instruments created just for this task to reach in and gently loosen the gums.
Your dentist will then simply slide the gums back to their optimal position.
After your procedure, we'll give you a few instructions on how to care for your teeth and what to eat for the upcoming six weeks. You should have very little discomfort or swelling after your treatment, but call our office if you need any extra care, and we'll be happy to see you again.
Receive a Remarkable New Gum Recession Treatment
During your next appointment, if we find that your gums have receded, we can offer you the new pinhole surgical technique for receding gums treatment. If you suspect you need it now, please let us know. Contact your friendly team at Smileology now if you are in Niceville, Destin, or Crestview!
Related Content