Denture Options in Niceville and Crestview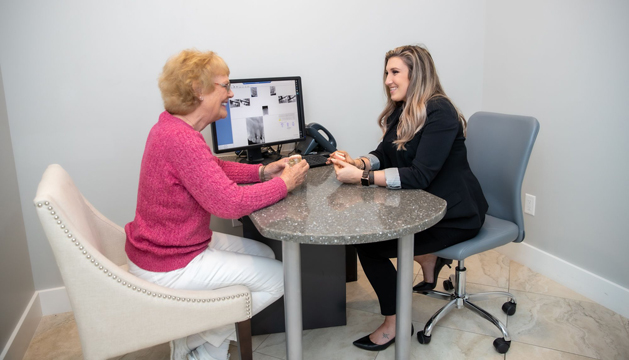 Many people see tooth loss as a natural part of the aging process, but we have a different plan for you at Smileology. We believe you should be able to smile with confidence and excitement at any age.
That's why we enjoy providing a variety of dentures for every type of patient, whether you need dentures because of aging, an accident, or another form of tooth loss.
If you want high-end dentures and related services, come to Smileology. We have won multiple awards for the quality of our dentistry in Crestview, Destin, Niceville, and Santa Rosa Beach. In fact, many patients come to us after they've been dissatisfied with lower-cost dentures or denture clinics.
If you're ready to be excited and satisfied by your customized dentures, call us now! Whether you need full mouth dental implants or traditional permanent dentures, you'll be happy with your results at Smileology.
What Types of Dentures Do You Offer?
We offer a variety of dentures because each patient has a unique combination of oral health, number of missing teeth, budget, and other factors. We are proud to offer both many types removable or permanent dentures here at Smileology, including:
Traditional Dentures | Customized top-quality, removable dentures held in place with denture cement. These rest on the gums, and you can take them out each evening for cleaning.
Implant-Supported Permanent Dentures | Implant dentures held in place by dental implants and not removable at home. Choose these permanent dentures for the ultimate security during chewing, smiling, speaking, and other activities.
Implant-Supported Removable Dentures (Snap-In Dentures) | Implant dentures that are convenient to take out when you need to. These stay in place better than traditional dentures for some patients and don't require denture cream.
All-on-X | Full mouth dental implants to support a full set of permanent dentures—there are often four implants to support the dentures, such as the All-on-4® Treatment Concept. These types of permanent dentures require less surgery than a procedure involving a larger number of implants.
In addition, Niceville dentist Dr. Broutin uses a branded process he developed for dental implants called Brilliance by Broutin™. If you opt for it, you'll receive dental implants and implant-supported dentures all in one day! This is the highest level of convenience and speed we offer to our patients.
What Are Implant-Supported Dentures?
Implant Dentures Before and After
Implant-supported dentures are a very secure, convenient option that many of our patients love. After getting other types of dentures and being dissatisfied with them, patients come to us for implant dentures.
How do they work? We craft customized dentures that use less material than traditional dentures, leaving you with fewer extra parts in your mouth. These are then attached to dental implants—the  new titanium tooth roots that are placed into your jaw.
We carefully color and shape your dentures to fit in well with the rest of your mouth and match any of your remaining natural teeth. We'll make them look natural and make sure you're happy with their aesthetic and functional qualities.
Benefits of Implant-Supported Dentures
Some patients prefer implant-supported dentures over traditional dentures because traditional dentures have slipped on their gums, even when held in place with denture cream. They enjoy the following benefits of implant-supported dentures:
They stay firmly in place while you are chewing and speaking.
Removable implant dentures can still be snapped out at night for easy cleaning.
The implants placed in the jaw stimulate jawbone growth, keeping bones strong.
They are more comfortable for some patients, because they do not stick to the gums.
We're excited to see you at Smileology for these types of implant dentures. Niceville Dentist Dr. Olivier Broutin, DMD, MAGD, DICOI, AFAAID, FMIII and our other dentists consistently update their knowledge of techniques and technology through continuing education. They bring this training from far-off cities back to Northwest Florida.
I visited many, many placed to get many options of who I would choose to do my dental implants, as it's a very big decision. Dr. Broutin will instantly make you feel comfortable the moment you meet him. I could not be happier with Dr. Broutin and his staff and my care at Smileology. They are all so kind and have never made me feel anything but comfortable. I cannot say enough of Dr. Broutin and staff at Smileology. Absolutely top of the line work!
Alana W.
Once you have implant-supported dentures, you'll see why we go on about them. They can let you eat more of the foods you love, improving your nutrition. They can let you speak easier, improving your relationships. And they can help your jaw and face retain a natural shape, improving your looks! You'll feel more confident and thankful every day with implant dentures.
Wake Up With Teeth™
This is an exciting service we can offer for eligible patients. It replaces an arch of teeth. Or we can give you full mouth dental implants for a complete new set of implant-supported dentures. This is how it works:
You'll first be sedated to let you be relaxed and comfortable.
Your dentist will remove your teeth.
Next, the team will insert your full mouth dental implants.
Then, we'll place temporary dentures on the implants.
You'll be given healing time for the implants to bond with the jaw.
In a final visit, we'll fit your new customized permanent dentures on your implants.
Once your implant-supported dentures are in place, you'll be able to eat whatever you like—even apples. We'll make sure that you have everything you need throughout the process and that you're happy and comfortable with your new set of teeth.
Visit Smileology for a Confident New Smile
Whatever type of long-term or permanent dentures we recommend for you, we'll ensure that they look great and you feel great with them. We can offer All-on-X implants or full mouth dental implants for whatever your situation requires.
We offer the convenience of having all related services finished in one location, often in as little as a day. If you're ready to have a new level of confidence with your teeth, call Smileology now in Destin, Crestview, or Niceville.
Related Content