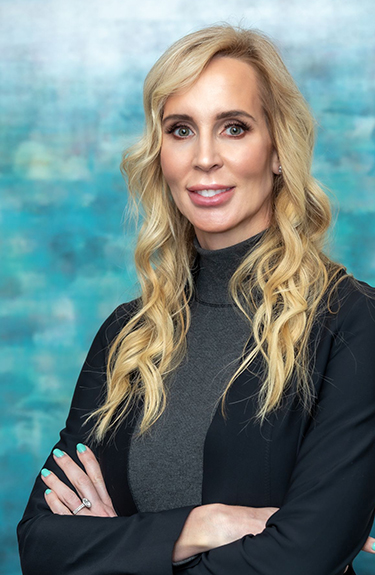 When you enter Dr. Wiebe's office and see her more than 30 honorary awards, you can be certain that you are trusting your care to a top performer. Dr. Amber Wiebe is a Notre Dame and University of Florida graduate with 15 years of private clinical experience. She also graduated from the Misch Institute in Surgical Implantology, a progressive, literature-based program elevating the standard of care in implant dentistry. Dr. Wiebe has trained with some of the leading names in dentistry, including Dr. Carl Misch, Dr. Newton Fahl, Dr. Louis Malchmacher, Dr. Parker Mahan, Dr. John Kois, Dr. Gordon Christiansen and many others.
Dr. Wiebe enhances and passionately grows her advanced restorative, cosmetic, implant, TMJ, and facial esthetic skills through time-intensive, nationally renowned programs. She accomplishes more than 150 hours of continuing education per year, not including her teaching, personal reading, and research.
Dr. Wiebe is also one of fewer than 1% of dentists worldwide with her Mastership in the Academy of General Dentistry. She is highly knowledgeable and incorporates only the most modern dental technology into her practice. In addition, she has been honored with Fellowship in the International College of Oral Implantologists, Fellowship in the American Dental Implant Association, and Mastership from the American Academy of Facial Esthetics. She is also a long-term faculty member at the American Academy of Facial Esthetics, teaching nearly once a month. Dr. Wiebe attends national dental meetings biannually and frequently instructs at live seminar trainings nationally and internationally, including the Hinman Dental Meeting in 2017.
If you are looking for a dentist who is skilled in the latest treatment technology, who puts your comfort and needs first, call Smileology™ At Santa Rosa Beach today to schedule your appointment with Dr. Wiebe.