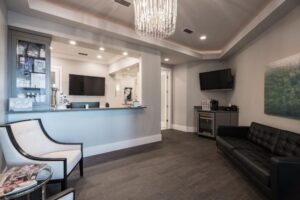 At Smileology™ in Miramar Beach, we want you to know that your dental health is an integral part of your overall health and our focus is to educate and inform you. Not only are our dentists highly trained, but they are also professors who teach dentistry and are passionate about patient education.
Improved Oral Health
With our extensive menu of premium general dentistry services, we help our patients establish a clean foundation from which their oral health can thrive for a lifetime and they can achieve the smile they have always dreamed of having.
Miramar Beach Dental Services
At Smileology™ we are always looking to expand our dental service offerings to help give you the smile of your dreams no matter what kind of dental work you need done. For our Miramar Beach office, here are some of the dental services we offer:
Professional Teeth Cleaning & Check-ups
Dental prophylaxis is a professional teeth cleaning procedure that thoroughly cleans the teeth. It is an important preventative measure to help stop the progression of gingivitis and periodontal disease. We recommend our orally healthy patients receive this type of procedure twice a year. At the same appointment, Dr. Broutin will thoroughly examine your teeth, gums and jaw, as well as perform an oral cancer screening. These regular check-ups are essential in staying ahead of any health issues or concerns that may arise.
>> Learn more about our professional teeth cleaning
---
Gentle Tooth Extraction
Extraction is a last resort, but sometimes it is necessary. Badly infected teeth can jeopardize the health of your entire mouth, including your healthy teeth and gum tissue. Fortunately, we can help!
Wisdom Teeth
The best time to have wisdom teeth removed is during a patient's late teenage years or early 20s. These immature wisdom teeth are smaller, so surgery is less complicated and potentially less painful. If your wisdom teeth have not started to erupt, we will use x-ray imaging to locate them and determine if they need to be removed.
>> Learn more about wisdom teeth removal
---
DIAGNOdent (Caries Detection)
Laser DIAGNOdent cavity detection pinpoints small areas of decay before they are visible during an exam or even on an x-ray. This state-of-the-art technology can mean the difference between a small filling and a more invasive dental procedure.
3D CT Scanning
3D CT scanning provides us with extremely accurate three-dimensional replicas of your oral anatomy, which prove especially useful when planning for dental implants, root canals, or wisdom teeth treatments.
Desensitizing Treatments for Sensitive Teeth
We use a special desensitizing gel that begins to works immediately. If you experience tooth pain and sensitivity to heat or cold, ask our Smileology™ dental team if a desensitizing treatment is the right choice for your smile.
---
Additional Dental Services
Emergency Dental Appointments
If you are experiencing a DENTAL EMERGENCY such as trauma to the teeth or extreme tooth pain, call us! In many cases we can work you into our Miramar Beach, FL schedule the same day or after hours.
Smileology Miramar Beach
12273 Emerald Coast Pkwy W Ste 117 Miramar Beach, FL 32550
Call: 850-424-7887

Hours:

Monday: 8:00 am - 4:00 pm
Tuesday: 8:00 am - 4:00 pm
Wednesday: 8:00 am - 4:00 pm
Thursday: 8:00 am - 4:00 pm
Friday: Closed