Custom Mouth Guards in Niceville and Crestview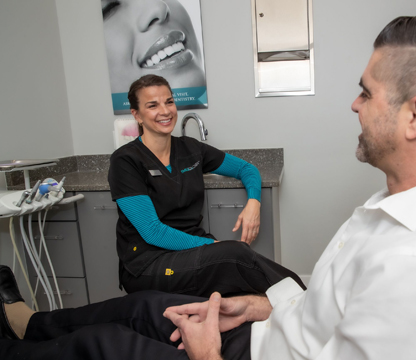 We all love sports, even as we strive to make them as safe as possible for our community athletes. Our doctors love working with athletes, and Smileology is even the official dentist for nearby college teams! Niceville Dentist Dr. Olivier Broutin, DMD, MAGD, DICOI, AFAAID, FMIII is also working with local high schools to supply sports mouth guards to the next generation of stars.
We care about the long-term health and safety of all our patients. That's why we design a custom mouth guard for any athlete who is at risk of dental injuries. Contact Smileology now for an appointment with your mouth guard dentist in Niceville, Destin, or Crestview.
Do I Need a Mouth Guard When I Play Sports?
Some sports don't necessarily require mouth guards. But we recommend mouth protectors to preserve your unique smile if you are involved with:
Baseball.
Basketball.
Football.
Hockey.
Gymnastics.
Mountain biking.
If there is a risk of an impact to your teeth, it is better to be safe wearing a football mouth guard or other custom mouth guard than to endure broken or lost teeth and the dental procedures necessary to restore them.
Also, if you have braces or a bridge on your teeth, a sports mouth guard ensures that these valuable appliances are not broken.
Custom Mouth Guards vs. Over-the-Counter Moldable Mouth Guards
There are two options when you are choosing a football mouth guard or other sports mouth guard:
Store-Bought Kits | You can buy a mouth guard kit at a sports store that you mold at home. These offer no guarantee of a correct or comfortable fit. They may leave gaps between the guard and your teeth, leaving room for injuries.
Custom Mouth Guard | At Smileology, your professional mouth guard dentist will take impressions of your teeth and design and produce a custom mouthguard that conforms to your unique smile. This offers maximum protection, along with a more comfortable fit.
We have refined our process for working with athletes over the years, which has led to Smileology being an official college sports dentist. We recommend a customized mouth guard to any athlete who visits. Spend a little more now to avoid injuries and costly procedures later.
Visit Smileology for Superior Sports Protection
If you're a busy athlete, come see a mouth guard dentist at Smileology! We'll create your customized football mouth guard or sports mouth guard quickly, and we'll have you racing to your next appointment as soon as possible.
Come back before the beginning of each sports season to ensure that your mouth guard still fits perfectly, for outstanding protection. Call Smileology now if you are in Niceville, Crestview, or Destin!
Related Content