Sedation for Dental Anxiety in Niceville/Bluewater Bay and Destin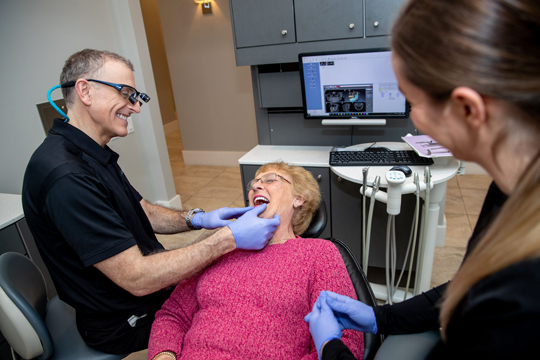 Have you struggled with anxiety about going to the dentist? Or have you experienced extreme tooth or gum sensitivity? Our top concerns include your health and comfort when you come to a Smileology office. And that's why we offer sedation dentistry to you if you need it.
Dental anxiety is more common than you might think. About 60% of patients suffer from some form of anxiety or heightened sensitivity. So, if you need extra help to feel relaxed during your appointment, it's perfectly understandable and normal. We're happy to take measures to make you totally comfortable at our Crestview, Destin, Niceville, or Santa Rosa Beach office.
The first step is communication. You don't have to make an appointment; you don't even have to call; you can instead email us, or have a family member or friend contact us. We're interested in your needs and in making you comfortable. We're experienced with patients just like you. Let's connect and discuss how we can help you feel better!
Benefits of Sedation Dentistry
Many patients ask for sedation before a non-routine dental procedure. We're happy to supply many types of sedation dentistry, including laughing gas, oral conscious sedation, and IV sedation.
It's normal for us, so don't be embarrassed to ask. We want your teeth to stay healthy and you to stay happy with your dentist, so we'll make sure that you're comfortable—almost like you're at a health spa.
1. Lowered Anxiety
The top benefit of sedation dentistry is relief from dental anxiety. You can sit for a regular cleaning or another procedure and feel relaxed and calm. With certain forms of sedation, some patients don't even remember their procedures.
2. Better Health
Your health can improve from the dental procedure itself. Anxious patients often put off dental visits for too long, which can lead to gum disease, infection, or tooth loss. Dental health even affects other body parts, such as the heart. You might need a checkup more than you know.
Also, a checkup or procedure could prevent worse problems from developing later, so it could save you money as it improves your health.
3. Reduced Pain
Rather than struggling to endure pain during a procedure, imagine what it would be like if we could make it disappear—sedation dentistry can help accomplish that!
Our Smileology dentists study the latest sedation dentistry techniques at conferences and bring them back to our local area. Their favorite thing is helping the people in our community combat dental anxiety with their extensive experience.
Types of Dental Sedation
At Smileology, we use a combination of new dental techniques and time-tested ones to help reduce your dental anxiety and make you feel relaxed. We have practiced for many years to learn how to take great care of our patients. In fact, some patients have returned to us repeatedly since the year 2000.
With that in mind, we offer sedation dentistry techniques from the very simple measures to the most state-of-the-art. But don't worry: we'll get to know your needs, and recommend the right type for you.
1. Laughing Gas
Laughing gas has been enjoyed by patients since the 1800s. It's safe and effective. You'll just breathe in the colorless gas in a normal, natural way through a mask placed over your nose. This makes patients quickly relax and feel comfortable, reducing pain and dental anxiety. When we're finished, it will vanish from your system within minutes.
2. Oral Conscious Sedation
The term "oral conscious sedation" simply means that you'll swallow a pill. It's designed to leave patients conscious, relaxed, and pain-free. In some cases, patients also forget their procedure afterwards.
3. IV Sedation
IV sedation involves the precise placement of an IV line, which delivers the sedation medicine you need directly to your bloodstream in a continuous, measured dose. This will keep you comfortable throughout a procedure.
4. General Anesthesia
Some patients need complete anesthesia, especially for more complex procedures, like replacing teeth. General anesthesia will put you completely to sleep, and we have agreements with nearby hospitals to provide this to healthy patients.
Laughing gas leaves your system so fast that you'll be safe to drive yourself home after your procedure. However, with every other type of sedation, you should bring a friend or family member to give you a ride home—and a ride here, if you'd like. Be ready to take some time off to relax afterwards.
Should I Consider Sedation Dentistry?
If you have avoided going to the dentist because you just don't like it or a similar reason, you may have dental anxiety. And that's okay! We have helped many patients with sensitivity or anxiety by using IV sedation, oral conscious sedation, or laughing gas. If you need a complex procedure, it's especially natural to want sedation dentistry.
Imagine the sense of relief you'll have once you have overcome this challenge. You'll be so glad that you took this important step for your health. If it has been some time that you have avoided dentistry, it will be a weight off your mind and your body.
You don't have to carry that burden around any more. We'll be happy to recommend the services you need, all with a non-judgemental attitude. We enjoy helping our neighbors with whatever dental service you need.
Chat with Smileology If You Have Dental Anxiety
Dental anxiety is very common. Many Americans have had difficult experiences or pain related to their teeth. That's why we're happy to help you with our sedation dentistry techniques, including laughing gas, oral conscious sedation, IV sedation, and even general anesthesia if you need it.
We'll find the right type of sedation to make you comfortable, relaxed, and pain-free during your visit.
If you're still not sure, we're happy to have a no-pressure chat with you or someone close to you. There's no obligation in contacting us. We're glad to get to know you and find out what your needs are. Contact us as soon as you're ready at one of our offices in Niceville, Crestview, or Destin. We look forward to meeting you and gaining a new friend.
Related Content